Cover letter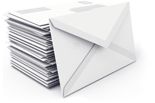 Is your cover letter making the right impression?
A cover letter is often the first thing a mail recipient sees, which means it holds the power of the first impression. The cover letter explains the purpose of the entire mailing to the recipient, and it conveys a powerful and succinct message about the person who sent the mailing.
Cover letter writing is important and complementary to your resume. Every time you send out your resume, you should also enclose a cover letter. This gives the employer a favorable and lasting impression about you. When your potential employer reads it first, it must convince them that your resume is really worth reading. Otherwise, your resume might get ignored.
The advantages of a well-written Cover Letter
It conveys a very good first impression.
It may stop your mail from being binned or deleted.
It demonstrates your intention in a succinct manner.
Its size and quality reflects upon the sender.
It shows that the sender has not mailed flippantly.
How can ResumesPlanet.com help you?
Our writers understand better than anyone that this document must be written professionally. We know how to make it attractive to the potential employer. Showing the employer that you are the best candidate for a specific job position is easy when you choose ResumesPlanet.com.

When you order from us, you get the following:
A cover letter created by a writer with years of experience
A cover letter delivered on-time
Direct contact with your writer through our admin area
100% Satisfaction and confidentiality guaranteed
24/7 customer support


Why do you need a well-written cover letter? In order to determine whether an applicant has all the necessary skills and is really interested in the position, employers look for individualized cover letters. If it is poorly-written, your employer will not call you in for the interview. Capturing your potential employer's interest is the main purpose of cover-letter writing and we know how to create an amazing one for you.

Convincing an employer to look at your resume is difficult if you have no experience writing cover letters. This is where ResumesPlanet.com comes in. With our skilled writers' help, you can rest assured that your resume will get noticed.

View all our available packages >>
With ResumesPlanet.com, you will land your dream job sooner than you expect! Brilliant cover letters for resumes written by professional writers will surely catch the employer's interest and persuade them to give you the job.
38 in process
58 written for the last 24 hours
215 written for the last week
911 written for the last month
99.83% Satisfaction rate for last month
order your cover letter

"Cover letter writing process was easy with your professional service. Thanks for helping me to land a job of my dream." Hazel Johnson,
loan closer
"Being interviewed, I was complemented on the quality of my cover letter. Thanks so much." Pat Burrage,
quality assurance inspector
"Cover letter your experts wrote for me leaves a lasting impression. I appreciate your work and help." Pauline Smith,
graphic designer
"I received an impressive cover letter that made me sure of applying for many jobs. Success and open doors it is all due to my professional writer." Eric Campos,
information security specialist
"Thanks for professional and friendly services. I am totally satisfied with the cover letter you created for me." Brenda Hardwick,
credit checker
Read all

Professional team of writers
Direct contact with writers within our admin area
Discount packages available
Interview guarantee
24/7 customer support
24 hours delivery available

99.9% Satisfaction guarantee
Interview guarantee
Confidentiality guarantee
No hidden charges
Professional writer

Interview tips
List of international recruiting agencies
List of 10 top job sites
Revisions in 30-day period